Diablo IV's early access for the special edition owners has started today, 4 days before the full launch on 6th of June.
The Diablo series began almost thirty years ago, when the first game was released in 1996. The games are in the classic action RPG style, and so is Diablo IV. At launch, you can play as one of five classes (more will be added over time): Rogue, Necromancer, Druid, Sorceress and Barbarian.
The full version of Diablo IV is playable now in ''early access' for everyone who pre-ordered the $90 Deluxe Edition or $100 Ultimate Edition. Everyone else will have to wait to play the game when it officially releases on the 6th of June.
A race against time?
This Early Access launch could be seen not only as the start of a Dark Fantasy adventure, but also as RACE. Blizzard has announced a contest where the first thousand players who reach level 100 in Hardcore mode and share this with the developers on Twitter will have their username immortalized on the statue of Lilith.
Some participants of the race are having their progress tracked by website Diablo Builds, who is also streaming the race on its Twitch channel.
If you want to be immortalized in your favorite game, then get ready to drop all of your healthy habits and get to grinding the 100 levels as soon as possible. But the game is possibly more enjoyed by playing it at a normal pace, exploring the dark world.
So how is Diablo IV?
So far the critics love it. Diablo IV has received numerous positive reviews based on pre-release campaign playthroughs.
Blizzard and issues with the launch of an online game usually go hand in hand. We all remember the old Error 37. PC players did not have many problems, but the same can not be said for PlayStation players. The unexpected error message 'Unable to find a valid license for Diablo IV' ruined the day for many players, as they were unable to access the Early Access features. Blizzard is aware of the problem and says: "The team is looking into this right now and will update once we have more information."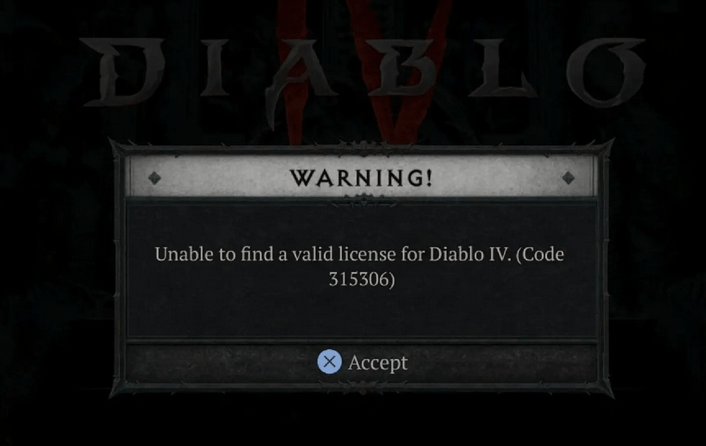 How do you play Diablo IV on PlayStation?
Some players have managed to trick the PSN by buying some in-game currencies, for which the smallest bundle costs $1.99. This is obviously ridiculous, of course, since everyone who paid for the Deluxe Edition should have the right to play the game ahead of time. Fortunately, though, there is a free solution. When you download a free-to-play game from the PlayStation Store, your console is reminded that you have a valid license, and you can play it.