Minecraft Live 2023 came and went, and we finally got some news on the next major update Mojang plans to release in the middle of next year! The developers talked about the winner of last week's Minecraft Mob Vote, some extra new features that we can expect in patch 1.21, and more! There were also some updates on the Minecraft Legends side of Mojang, but I will not talk about them today, as I have never played the game.
It's hard to believe that we have been playing Minecraft for as long as we have, as the game is turning 15 years old in 2024! It still feels like yesterday when I first loaded up Minecraft as a young boy, and now this is the most successful game of all time with over 300 million copies sold with no signs of stopping any time soon.
Mob Vote 2023 Winner
Last weekend we got to vote between three new mobs, that had a chance to be added to the game in the 1.21 patch, which is probably coming in the middle of 2024. We players got to choose between an armadillo, penguin, and crab. Well, the people have spoken, and the winner is AN ARMADILLO!
Even though I am excited to be able to build wolf armor for all my dogs that I have domesticated in Minecraft, I can't help but feel a bit disappointed. It's no secret I was Team Penguin during the vote, as they are my favorite animals. But I kind of expected the outcome to be like it is, as the penguin's special bonus seemed to be just a recycled dolphin buff. Hopefully, armadillo doesn't disappoint on release day!
Everything We Know About the 1.21 Update
The next Minecraft update doesn't even have a name yet, as we honestly barely know anything about it so far. But during Minecraft Live, we did learn that a new dungeon is being developed, called ''the trial chamber''. It will be a structure full of corridors and rooms packed with traps, trial spawners, mobs, loot, and much more! The chamber will also be procedurally generated, which means that every time you enter one you will face new challenges! The challenge level will also be based on the number of friends entering it with you in your party.
You will also have to keep an eye out for the Breeze, the latest hostile mob that was announced during the Minecraft Live event. It likes to attack using the power of wind and usually leaps in circles around the player.
If you are a Redstone fan, you will love some new additions in the field of automation being added to the game. We are getting copper blocks and bulbs, which can be toggled on/off with Redstone pulses. But the biggest addition I saw was the crafter, which will be using Redstone to automatically craft items!
Minecraft Marketplace News
Star Wars
If you're a Star Wars fan (honestly, who isn't?), then this piece of news is for you! On November 7th, the Star Wars: Path of the Jedi DLC comes to Minecraft Marketplace! The DLC will be set during the Clone Wars, and you will train with all our favorite Jedi Grandmasters as a young padawan. On your journey to become a Jedi Knight, you will be fighting galactic monsters, exploring uncharted planets, and maybe you'll even be tempted by the dark side of the force.
Planet Earth III DLC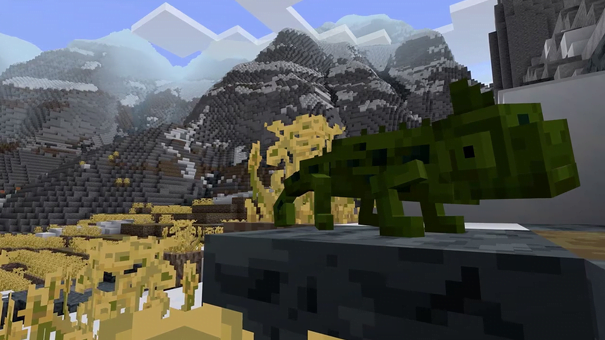 During Minecraft Live we also saw that BBC Studios and Minecraft Education are teaming up again to recreate Earth's most interesting corners in our favorite blocky universe. You will be able to play through some of the most extreme real-life biomes in existence and explore the stories of Planet Earth III in the new DLC.
Final Thoughts
I feel we didn't get to know as much about the 1.21 update as we could during the Minecraft Live event, but I think that is a good thing. Just enough things were revealed to get us excited and keep us on our toes for the next news regarding the update. I don't quite understand to what lengths the automatic crafting system will function, but that is a feature that shows the most promise to change Minecraft to a whole different game from the one we all know and love.
What feature are you the most excited about in the next Minecraft update? Did you watch Minecraft Live when it was streaming? Are you excited about the armadillo, or do you feel a different mob should have won? Let us know in the comments below!