Tokyo Revengers is back! As we announced last week, new season and new arc came out yesterday 3.10.2023. If you want to read more about that post, you can access it here! You will find some basic information and the trailer too. Let's dive into Tenjiku Arc episode 1, first we will go over the events and story that we have seen. Later we will review it as we usually do!
Spoilers ahead!
Tokyo Revengers: Tenjiku Arc Episode 1 – Recap
In the first episode of the Tenjiku arc, we're treated to a fresh opening sequence featuring both familiar and new faces. The episode eases us in with a calm start that eventually escalates into an intense fight scene.
Picking up right where the previous season left off, we find Takemichi and his friends recovering from a beating inflicted by the newly emerged gang in town, the Tenjiku gang. This mysterious group has suddenly become a significant player in the Tokyo scene, leaving Takemichi feeling bewildered and a tad apprehensive.
Among the members of the Tenjiku gang, one person stands out – Tetta Kisaki, the former Captain of the Third Division in the Tokyo Manji Gang, now holding a high-ranking position in Tenjiku. It's clear that Kisaki's ambitions are even grander than we initially thought. Having failed in his previous attempt to take over Toman, he's now set on creating a new powerhouse akin to it.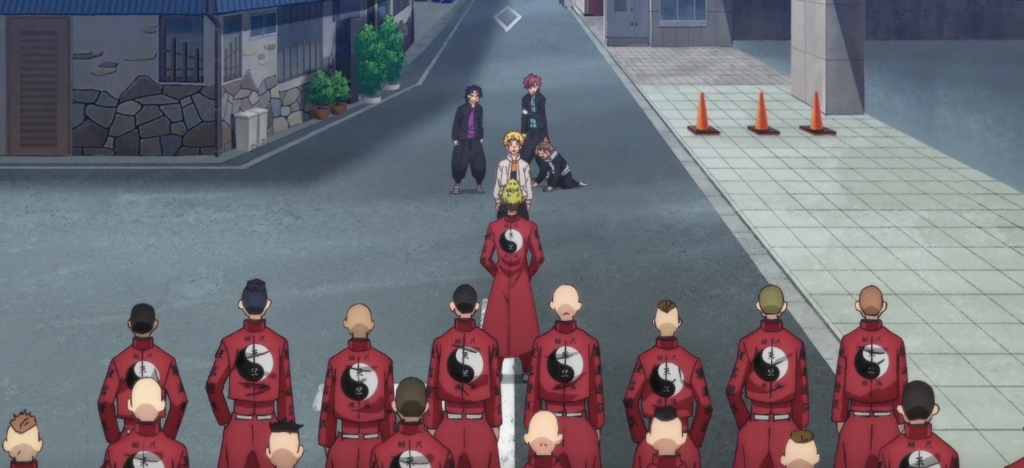 Meguro Twin Devils
Chifuyu, the right hand of our first division commander, was also brought down and beaten. This new gang is aggressively expanding their territory, targeting and assaulting every Toman member they come across. The situation grows direr by the moment, leaving our group of five battered members on the ground.
Revving motorcycle engines
Enter Toman's Meguro Twin Devils, racing in on their bikes to the rescue. Allow me to introduce them briefly: Nahoya Kawata, the Fourth Division Captain aptly nicknamed "Smiley," and his brother, the Vice-Captain known as "Angry." First smiling one with the heart of a demon, second angry looking one with a heart of gold.
With unwavering determination, the formidable brothers swiftly dispatch the remaining gang members, deciding that a raid is the best course of action! They're joined by Takemichi and Chifuyu, along with two other captains and vice-captains, as they set out to exact revenge. Meanwhile, the rest of the group tend to the wounded comrades.
Second time traveller?
With the group now reduced to four members and no knowledge of the enemy's base location, the two brothers take it upon themselves to, let's say, have a chat with some nearby Tenjikus. Meanwhile, Takemichi and Chifuyu exchange concerned words.
Takemichi confesses his struggle in fulfilling his true mission of altering the timeline. He's made multiple attempts, achieving temporary improvements at best. No matter what he does, the changes don't hold as intended for long.
A thought lingers: What if… there's another individual with the power to shape the future? – Kisaki. If one time traveler exists, why not two, both meddling with the timeline?
Their conversation is abruptly halted by the returning brothers, who've concluded their, let's say, inquiries. Armed with the newfound knowledge of the hideout's location, they press on.
Raid
A typical raid involves a sizable contingent of the gang or even an entire army, and for good reason. However, our intrepid quartet arrives at the hideout to find over a hundred Tenjiku gang members, along with Tenjiku's big four member Kukucho the Brawler. To everyone's surprise, Kukucho orders his members to vacate the warehouse, leaving him to face our small group alone.
In a bold move, Kukucho challenges the First Division Captain, Takemichi, to a one-on-one duel, assuming him to be the strongest by virtue of his rank. Takemichi agrees, and the fight ignites. With a powerful punch, Takemichi manages to send the burly brawler hurtling across the room, toppling a man much larger than himself.
Then, a sudden recollection hits him – this is Kaku, the kid from his childhood. Kaku had purposefully let Takemichi win, as he idolized him as a childhood hero. Now, Kaku only seeks a conversation about their new member, Tetta Kisaki, and insights into the kind of man he truly is. They exchange crucial information, and Kaku solemnly warns them about a potential traitor lurking within their ranks.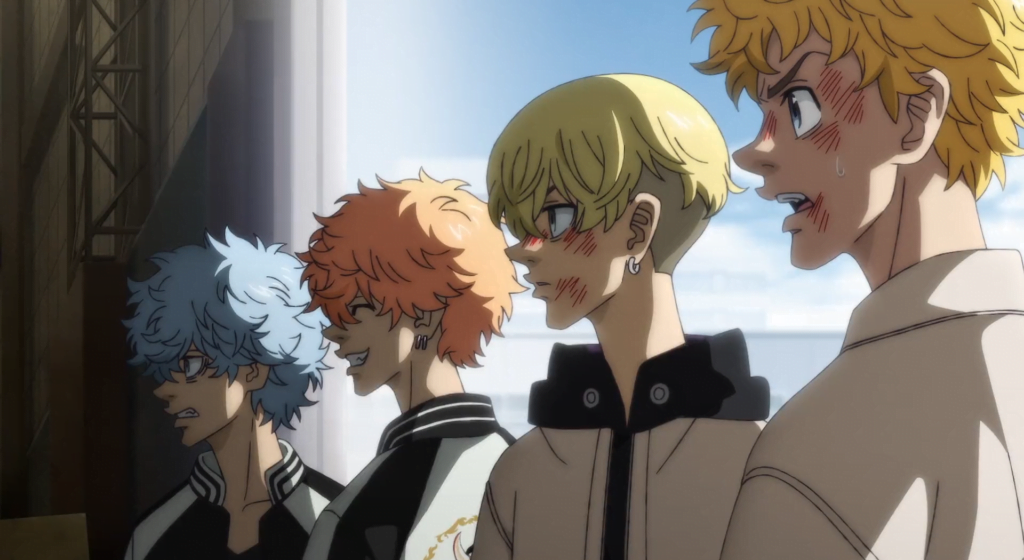 Meanwhile, by the shore, we see leaders of both gangs, Mikey and Kurokawa meeting.
Tokyo Revengers: Tenjiku Arc Episode 1 – Review
With the recap complete, let's dive into the review. The good opening sequence served as a fantastic reintroduction to the characters, gradually building up the excitement and culminating in the intense fights towards the end. It carries a similar vibe to the openings of previous seasons, which is a nice touch.
The story seamlessly picks up from where it left off, offering some satisfying plot twists, such as Kaku turning out to be our hero's old friend. However, the most intriguing aspect for me is the potential existence of two time travelers. Considering what we already know about Kisaki from the previous season, giving him knowledge of the future is a significant power boost.
This leaves me eager to learn more and witness not only new battles but also the evolution of Takemichi, who now displays a newfound resolve and fights without hesitation, as seen in his confrontation with Kukucho.
Tenjiku arc episode 1 has effectively set the stage for what promises to be an exciting continuation of the story. I'm eagerly anticipating what comes next.