Hey guys, welcome to the unique Ganiming series ''Anime Hater vs Anime''. This is a series where I will watch anime for the first time and review every series I see. I will be reviewing this from the perspective of someone who NEVER liked anime. Sit back, get your popcorn out, and get ready to embark on this exciting new adventure with me! Only time will tell if I shall stay known as an anime hater 😉
My last review in the Anime Hater series was about Cyberpunk Edgerunners, which is based on one of my all-time favorite games Cyberpunk 2077. I loved every second of it and I was doubtful anything will top it. But that was before I decided to listen to my friends' recommendations.
Today I've got a special banger for you. This is the anime that EVERYBODY has been recommending to me, even before starting the Anime Hater series. It is the most popular anime on the planet and if you haven't been living under a rock, you've heard about it too. As the title already gave away, I am of course talking about Attack on Titan. I finally gave in and saw the first season and I have to tell you; I just might start with the second season straight away. Let's get right into it!
SPOILER WARNING: You will find many spoilers ahead, so make sure you watch Attack on Titan before reading this if you haven't already!
Attack on Titan Opening
The show started fast, and the first thing I saw was a beautiful walled city, with a huge titan looking over the wall. Of course, I was confused about what the hell was happening and that feeling of confusion lasted through the whole season. But after a minute, the opening started playing and it was fire. It really got me excited about continuing to watch the show and the adrenaline started pumping through my veins, even though I had a long day behind me. Guren no Yumiya definitely showed me it deserves the spot on our Best Anime Openings List.
Attack on Titan Animations
The main reason I never really got into anime was the animations. I just couldn't get used to the specific style of animations the Japanese anime used, contrary to the Western animations. But that was not the case with Attack on Titan, as I actually really enjoyed the animations. Attack on Titan is even featured on our Top 10 Best Animated Anime list, make sure to check out how it is ranked!
Fight scenes between humans and Titans felt smooth and captured the epicness of the anime, they even made me feel I could take on the Titans by myself. Sometimes I had some issues differentiating from certain backup characters, but I didn't mind as their design was awesome. I could clearly see what the characters felt when they were on the screen (except for Levi). Even the Titans were designed very nicely, with a lot of them being unique from each other, which I really appreciate.
Attack on Titan Season 1
The general plot of the show felt very intriguing to me. Humanity survived behind three 50-meter-tall walls for over a century, which prevented the Titans from attacking them. Nobody knows where they came from, all we know is that they suddenly appeared and almost overnight pushed humans to the brink of extinction.
First Impressions
Well, if I said I'm confused after the first season of Attack on Titan, it would be an understatement. The confusion started on the first episode, and I had many questions. Why is only one Titan that big? Is he the only one using his brain? Why does he look different? And what the hell were the guards doing that they were not able to see him coming?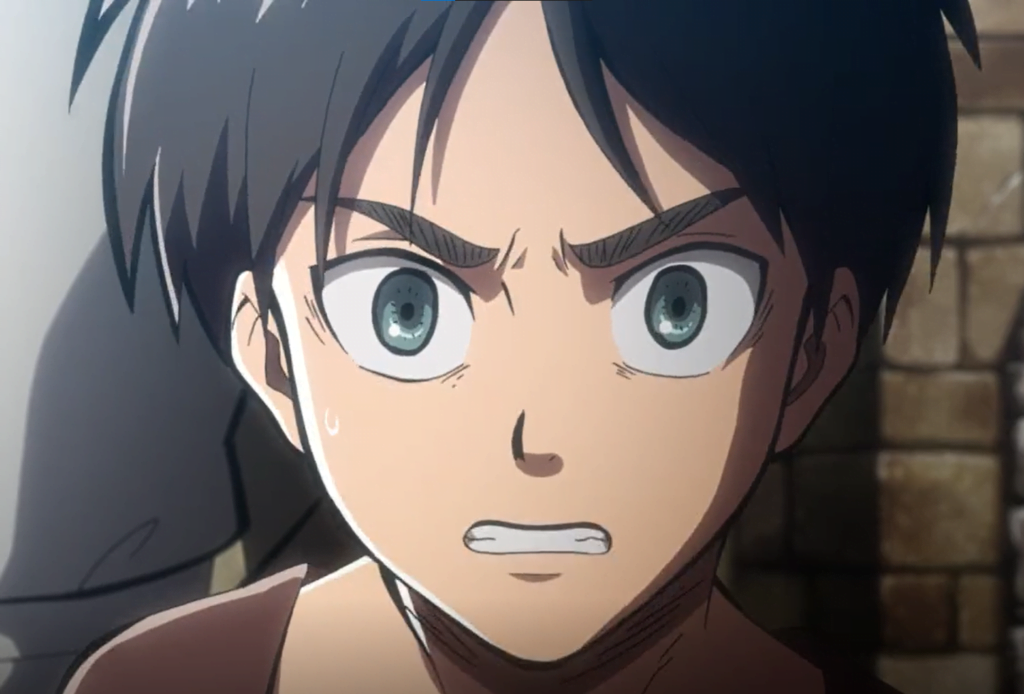 The story follows Eren Jaeger, who appears to be the show's main character. He was there when the Colossal Titan attacked Shiganshina. He watched his mother die as he and his friends were evacuated, and I could see the anger and pure determination in him. I could immediately tell he would do anything to get his revenge on the Titans.
The Titans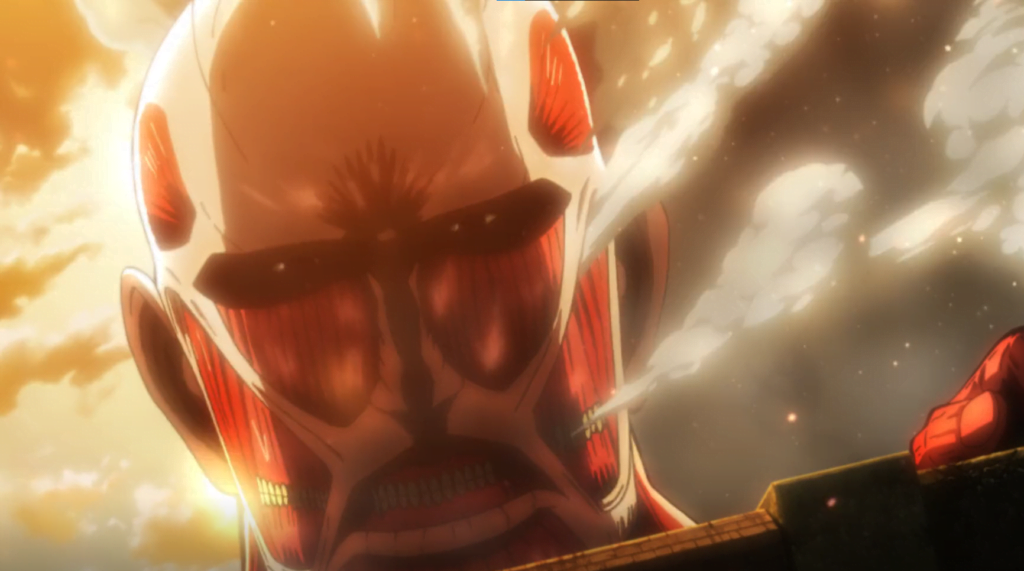 Attack on the district Shiganshina was the first time in over a century most of the population got to see just how dangerous the Titans really are. They are giant humanoid beings that eat people and seem to not feed on anything else. A bit into the show it got revealed that they require sunlight to get energy and remain mobile. Eating humans apparently was not for survival, but a primal instinct that they did just because.
The thing I find weird the most is that they have only one weakness, which is by cutting deep into the back side of their necks. I don't get it, why only there? Would they survive their head being blown off? Probably another thing that will be revealed to me eventually.
Military Training
After the fall of Shiganshina, Eren and his friends started training for the military. His biggest goal was to join the scout's division, whose job is to actually go beyond walls and fight the Titans. It took years of training to become ready, where they learned combat skills, got physically ready, and got the necessary training with the basic soldier gear.
Their basic gear consists of 2 swords that seem to have replaceable blades and two tether-firing devices that allow the soldiers to be super mobile. At first, I thought the gear seems impractical and that it would be too easy for the Titans to just swat them from the air, but after seeing some of the best soldiers in action I came to the conclusion it's just a skill difference.
Battle for Trost
The new recruits with Eren among them were positioned in Trost, and on the first day of their job, the Colossal Titan showed up again and breached the gate. It seemed as if it just materialized out of nothing, just like it disappeared in an instant. At the time I was confused about what is going on, but the fighting in Trost has started and I had no time for confusion.
Both new recruits and experienced soldiers were dropping like flies during the Titan attack on Trost. This battle also proved that pure determination is not enough to win a fight against a Titan, as Eren recklessly went into the fight and got himself eaten. My first reaction was ''WTF was that??'' Why would the show spend so many episodes centered on that one kid who gets himself killed in the first actual fight he has? It made me feel like I was watching the execution of Eddard Stark in Game of Thrones all over again.
Imagine my surprise when I realized he was not actually dead. As his friend Mikasa was just about to die, the Titans that had her surrounded started fighting with each other. One of them protected Mikasa and her squad from other Titans and was later revealed to be Eren himself. At first, I thought he can control other Titans but that didn't make as much sense as the fact that he can transform into them.
Retaking of Trost
Even though he clearly helped humans, the military was still not certain if Eren was on their side. And I couldn't really blame them, they never knew humans can change into Titans, they must have been scared out of their minds. After some convincing, they decided to let him live, under the condition that he helps the military retake Trost.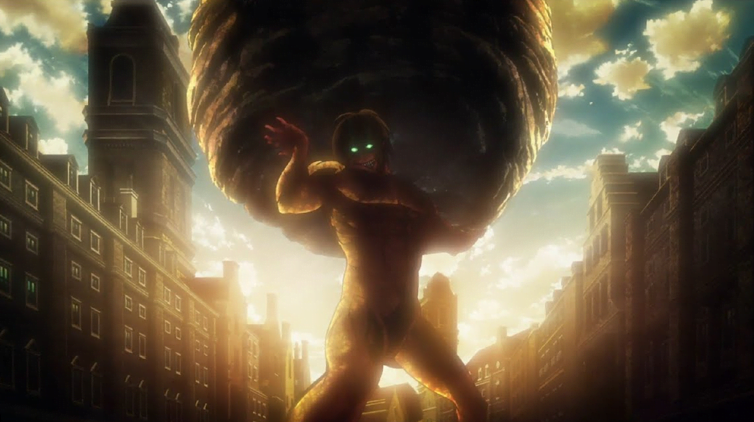 The battle plan was for him to transform into his Titan form and use a huge boulder to seal up the breached entrance to Trost. When he transformed, he lost control for a bit and attacked his friend Mikasa. But after a speech from his friend Armin, his focus returned, and he accomplished the mission while other soldiers protected him.
Joining the Scouts
A trial was held after the battle for Trost, the point of which was to determine what to do with Eren, as most of the people feared his abilities. The scouts managed to convince the court that his abilities could be well used in taking the fight to the Titans for a change, so they were awarded full custody of him – as long as he is under the complete supervision of Captain Levi.
Levi and his Special Operations squad brought Eren to their headquarters, where the plan was to help him learn how to control his abilities. They even had two Titans in captivity for experimentation purposes, but they didn't live very long.
Some new recruits joined the scouts not long after that, and they already started planning the next expedition. They assembled into their Long-Range Scouting Formation, where they spread around the main wagon train and report Titan sightings via flare gun. But little did I know I was about to get confused again.
The Female Titan
Apparently, all Titans were supposed to have the forms of middle-aged men, with primal tendencies for eating humans. As you can imagine I was surprised when I saw a female Titan running towards the group. I'm not complaining though, it was a nice change of pace after watching nude dudes eat people all the time.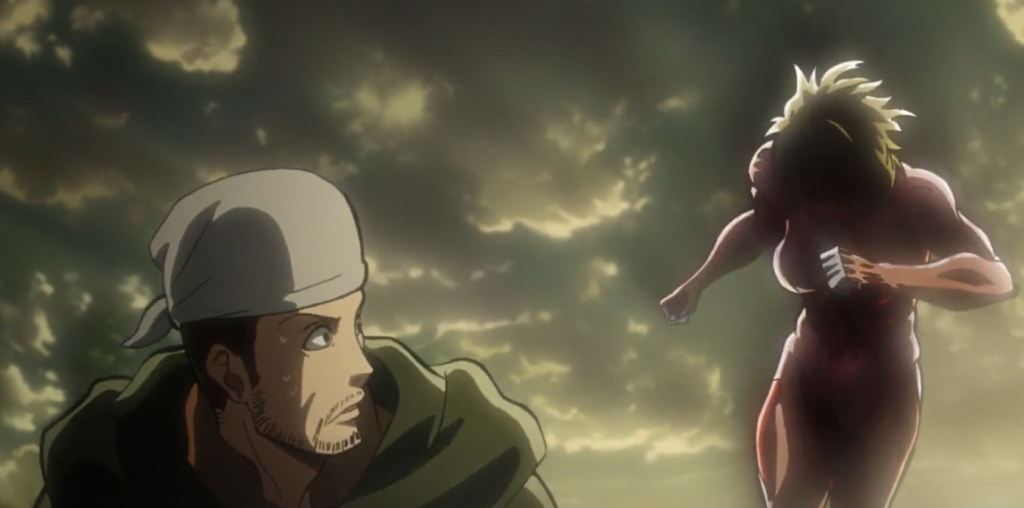 Quickly it became obvious that this Titan was someone like Eren – a human who can change forms. She was fighting like she was trained for combat, and it was obvious she killed only the scouts in her way, not just for food. She was also protecting her weak spot, something no other Titan did before. Obviously, she was looking for someone, as she let Armin live after seeing he was not her target.
It seemed like Captain Levi knew what was about to happen though, as he and his squad managed to trap the Female Titan in the forest. But sadly, things did not go according to plan, as they rarely do. Titans swarmed the forest and ate the female, so the scouts did not have a chance to figure out who she is, instead, they were forced to retreat.
Eren vs The Female Titan
I thought ''Wait if she's like Eren, then a human probably appeared from the Titan body and disguised itself into a scout''. And it came true, as Levis Special Operations Squad had to fight for their lives. They didn't stand a chance, as the opponent had abilities they did not anticipate, such as skin hardening, which prevented them from taking out her weak spot.
Eren finally decided to turn into a Titan and fought her. He was fueled by pure rage and sadly it was not enough as he too was defeated. Thankfully Mikasa and Levi were nearby so they could save him and bring him back home with other surviving scouts.
The Rematch
It didn't take too long before Eren got his rematch again. Armin figured out who the female Titan was, so they crafted a plan on how to capture her. Annie, a friend of Armin and Eren from the military training days finally reveals herself as the female Titan in the middle of Stohess, causing mayhem and destruction while trying to escape. Eren at first couldn't transform, but he managed to do so after some more speeches from his friends.
The final fight caused a lot of casualties and material damage all over Stohess, and even some damage to the wall. Even the wall got damaged, and we will talk about why that is important when reviewing season 2. Eren emerged victorious, as he defeated Annie in the Titan form. She was still alive, but sadly not of use to the Scouts, as she was entrapped in a hardened amber-like substance.
Final Thoughts
The first season was fun overall, even though there were some parts that felt like they were a bit dragged out. I love the post-apocalyptic genre shows, where humanity is fighting for survival, and the creators executed this one perfectly. I still can't get around my confusion, but I do realize the first season is merely the tip of the iceberg and I will get my answers eventually. Plot armor was super strong on some of the characters, especially Eren as he probably should not have survived being eaten by a Titan twice, but hey, I'm not complaining, I like the kid.
I have not seen many animes up to this point, but I do feel this one was the best I've seen so far. The hype opening, clean animations, and amazing story (even though confusing at times) make for a unique experience. I never thought I would be excited for the next season of an anime, as I've already started watching it before wrapping up this review fully. I rate Attack on Titan a 9.3, which puts it at the top of my ranking ladder so far.
Keep in mind, this post and the rating will be updated when I finish up season 2, so keep an eye out for that! That will be all from me for now, if you managed to read to the end I thank you, it really means a lot! If you have a request for the next anime to be reviewed let me know in the comments down below.