Hey guys, welcome to the unique Ganiming series ''Anime Hater vs Anime''. This is a series where I will watch anime for the first time and review every series I see. I will be reviewing this from the perspective of someone who NEVER liked anime. Sit back, get your popcorn out, and get ready to embark on this exciting new adventure with me! Only time will tell if I shall stay known as an anime hater 😉
A bit more time has passed from the last Anime Hater review than I would have liked, but we are back with a bang! Today I bring to you a review of Cyberpunk Edgerunners.
Even though the release had mixed reviews and horrible optimization for older consoles, Cyberpunk 2077 is one of my favorite games. I pushed through all the bugs on my old PS4 and fell in love with Night City. So, I thought this would be the perfect anime to continue our series.
First, I will do a short overview of the Cyberpunk world where the show is set. After that, we will dive into an in-depth review of the Cyberpunk Edgerunners anime and my thoughts and opinions.
SPOILER WARNING: You will find many spoilers ahead, so make sure you watch Cyberpunk Edgerunners before reading this if you want the full experience!
Where to Watch Cyberpunk Edgerunners?
You can watch Cyberpunk Edgerunners on Netflix! The show premiered on the platform in 2022 and only has one season. If you like it, you can check more of Netflix original anime.
The Cyberpunk World
The anime Cyberpunk Edgerunners is set in the world of the game Cyberpunk 2077. It's a dystopian world where technology coexists with social and economic decay, which gives us a dark and gritty future. Both the game and the show take place in Night City, a sprawling metropolis located on the West Coast of the United States. Mega-corporations (Arasaka) have gained immense power in this world, and basically control every aspect of society and politics.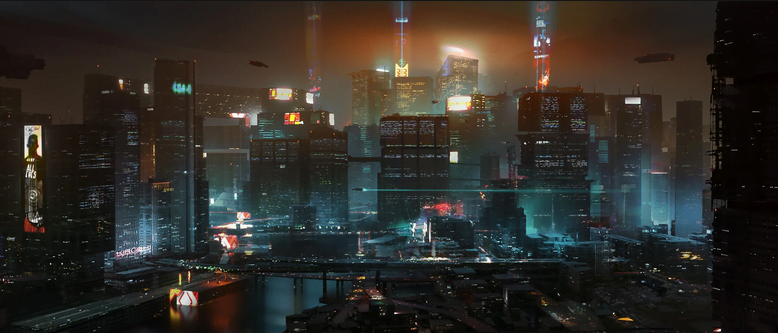 Night City is a vibrant but dangerous city, divided into many districts. Each district represents a different social class and exhibits its unique characteristics. The wealthy reside in luxurious high-rises of the corporate center, while the middle class and the poor struggle to survive in the overcrowded and crime-ridden outskirts.
Technology plays a central role in this world. Cybernetic enhancements are commonplace, allowing people to augment their bodies with mechanical limbs, neural implants, and various upgrades to gain an edge in a cutthroat society. The line between human and machine is blurred, as people modify their bodies to gain the edge in the dangerous city, or simply survive.
The Cyberpunk universe showcases unchecked technological advances very well. The pervasive influence of corporations and the constant surveillance create a sense of paranoia and loss of privacy. Social inequality and unrest are rampant, leading to violent clashes between rival factions, street gangs, and law enforcement.
Is Cyberpunk Edgerunners Canon?
The anime Cyberpunk Edgerunners is canon to the events of Cyberpunk 2077. It also features some characters that appear in the game, such as Adam Smasher and Rogue, Night Cities premier fixer.
When Does Cyberpunk Edgerunners Take Place?
Cyberpunk Edgerunners takes place in the year 2076, just one year before the events of the Cyberpunk 2077 game. It is considered a prequel to the 2020 game.
Cyberpunk Edgerunners Review
The Intro
Now that you have a general sense of the setting Cyberpunk Edgerunners takes place in, it's time to dive straight into the anime! Cyberpunk Edgerunners was animated by the Japanese studio Trigger under the supervision of CD Projekt. It is a clear example of the cyberpunk anime genre.
The show started with a bang. It immediately started with the police trying to deal with a cyberpsycho. Cyberpsycho is the term for an individual, who is heavily modified by cybernetics and has psychopathic tendencies. They have lost their identity as a person and have complete disregard for human life. The show did a really good job showcasing what such an individual is capable of, as he killed a lot of police officers before being taken out.
In the next scene, we get to meet David, the main character of the show. It turned out that the opening cyberpsycho scene was just a braindance he was watching. Braindance is a highly advanced version of the VR technology we know today. Essentially, it's a technology that allows to record and play back someone's experience, including their physical sensations, emotions, and thoughts.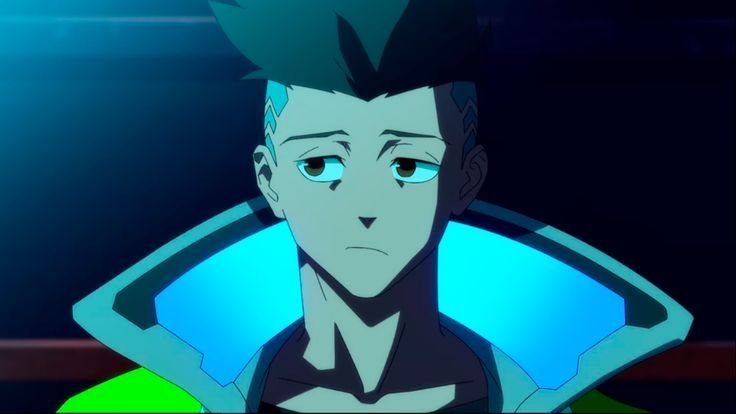 David is a young and poor kid, who lives with his mom in an apartment. He attends Arasaka Academy, which is extremely rare for someone of his economic status. His mom works very hard to pay his tuition and he is a straight-A student, even though he feels he doesn't belong there.
After he is caught using illegal software in school, he gets expelled, and his mom drives him home. They get caught in the crossfire between rival gangs where his mom gets killed. After going through his mom's belongings, he found a military grade Sandevistan neuralware implant from the cyberpsycho we saw at the beginning. He took it to the Ripperdoc to equip it, and it turned out to be a thing that changed his life. Utilizing his new implant, he took revenge on his school bully and dropped out of the Academy.
I felt the intro to the show was perfect. It nicely set up the main protagonist and showed just how dangerous Night City can be for an average citizen. Danger lurks behind every corner and only the best can survive the city.
Joining the Edgerunners
Aboard the train, David met a mysterious girl stealing shards from unsuspecting corporate employees. She attempted to steal his shard too, but he quickly intercepted her. She introduced herself as Lucy and proposed a partnership. With her skills and his new implant, they robbed everyone on that train.
After barely staying alive from using his Sandevistan too much, he stays the night at Lucy's apartment. They talk about her dream of visiting the moon and even load up a braindance that allows them to experience it. But quickly it turns out that she was just stalling him. Lucy called her team of mercenaries the Edgerunners to her apartment. Maine, the leader of the Edgerunners, confronts David about the implant that was supposed to be his. David reveals that his mom is dead and that he has extreme tolerance for cybernetics, he is given a chance to join the group. Even though his opening heist goes sideways, Maine welcomes him to the group.
The crew gets on working a job for Faraday, where the objective is to apprehend Tanaka, a high Arasaka executive. David was the one who thought of the plan, by using Jimmy Kurosaki as bait. Kurosaki was the best braindance creator on the market, something David knew a lot about. The mission is ultimately successful as they get Tanaka, but Kurosaki does die. Before his death, he warns David about installing too much cyberwear in his body, but he shrugs it off by calling himself special.
Maine's Death
After Tanaka's abduction, Maine starts experiencing the first symptoms of cyberpsychosis. I didn't want to see him go down that way, he quickly became my favorite character by being such a mentor to David.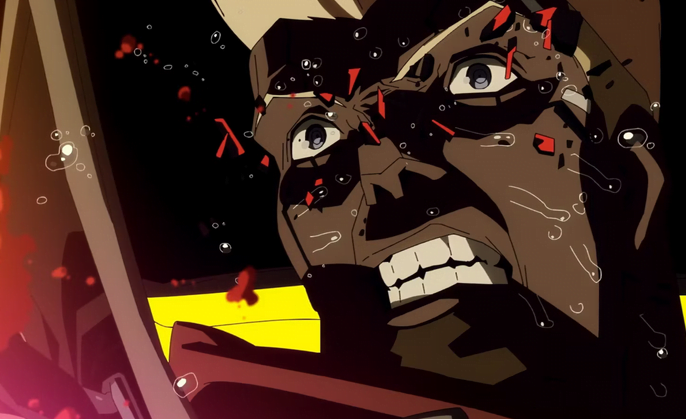 While they were trying to extract some info from Tanaka's brain he dies. Suddenly both the NCPD and the trauma team were on top of the crew. During the fight, Maine went full psycho and eventually kills one of his own crew members. He stayed behind and held off the NCPD before dying, so David and Lucy had a chance to escape.
This had huge consequences for all the members of the crew that are still alive. Even I was left wondering what would happen, as Maine really seemed like the heart and soul of the group. It also let me know that nobody is safe in this show. There are no bullshit plot armors on characters and anything can happen to anyone at any time.
David Becomes the Leader
Months after Maine's death, David has taken over the leadership of the Edgerunners. He heavily modified his body with more cyberwear, even being compared to Adam Smasher by his Doc. David apparently has never heard of Adam Smasher before, which I found ludicrous, as he is basically a legend.
We finally got to hear Lucy's backstory. She was brutally trained by Arasaka to become a netrunner for them, before managing to barely escape with her life. After Maine's death, she retired from the crew and now lives with David. Now she privately fights Arasaka to protect David, but she keeps this to herself, even from him.
David finally started showing the first signs of cyberpsychosis. He ignores the advice of Doc and everyone near him to downgrade his cyberwear, so I pretty much knew how he would end up by the end of the show. He was now on a certain path to cyberpsychosis, with the drugs he just got offering only a temporary solution.
Shortly after the crew took a job from Faraday again, which turned out to be a trap set for David. The objective was to steal a cyberskeleton from an Arasaka convoy. The real objective was to trick David into installing and using the skeleton. His extreme resistance to cyberwear made him an ideal candidate to test the new technology in action. While he was installing the skeleton, he also realized that Faraday kidnapped Lucy, which sent David into a vengeful rage. He singlehandedly destroy the whole Militech convoy attacking them, and headed straight for the Arasaka tower to save Lucy.
The Final Battle
When he arrives at the Arasaka tower, he confronts Adam Smasher. I was really hoping we would get to see that showdown, as I figured he wouldn't have been teased for no reason a couple of episodes back. David killed Faraday and managed to flee the tower with Lucy, with Smasher in pursuit.
David was walking the line between humanity and cyberpsychosis with the use of drugs the whole time. He was losing consciousness, but Lucy managed to bring him back. They shared a real heart-touching moment, as they both realized David's chance of survival is basically zero.
He managed to distract Smasher long enough for Lucy to escape with their driver Falco. But David was no match for Smasher. He ripped apart his cyberskeleton with brute force and eventually executed David with a shot to the head. This cemented David as a Night City legend.
Lucy finally realized her dream of going to the moon, while seeing a vision of David. It was a flashback to the day they met and had their first braindance experience together.
Cyberpunk 2077 Reference
I included this segment as a little fun fact. You can actually find the braindance David watched at the start of the show. It can be found at the Megabuilding H4, the very same building David used to live in with his mother. The tape comes with a warning to not end up like David Martinez. This gets your character V interested and you find out more about David. After researching, V gets in contact with Falco who tells the story of David and the Edgerunners. He warns the player not to look for them, but he does leave V David's signature yellow jacket.
Final Thoughts
I loved the show. It was everything I would want from an animated series. The way we get to experience the Night City is on the level of the game in my opinion. The economic differences are shown very well, and I got to feel the desperation of regular citizens. It truly gave me the feeling that you can not survive in the city without top-notch cyberwear.
The references to the game were enjoyable too. It was awesome seeing Adam Smasher in action, as the boss fight in the game felt a bit disappointing. It was really nice seeing Rogue too, even though it was only for a couple of seconds.
My personal rating for the show is 9.2. It is probably my favorite animated series I've seen so far, even compared to Western animations. It captured the world of Cyberpunk perfectly, and in my opinion, offers an opportunity to explore even more unique stories from the universe. You can check out my anime ranking right here!
Did you like Cyberpunk Edgerunners? Would you like to live in Night City if you had the chance? Would you give in to the use of cyberwear if you had to survive? Or maybe you have a recommendation for another anime I can watch? Let me know in the comments below!