The seed you start your new Minecraft survival server on is probably the most important detail to pay attention to before going online. Nobody wants to spend days to find a village or an interesting cave system. Well, your search for the perfect base spot is over! Now that the new 1.20 update has been out for quite a while, it's time to check out more of the best Minecraft seeds that will make your survival world stand out! Since this is episode number 10 of Minecraft Monday, we will talk about 10 different Minecraft Seeds.
Every seed we will be covering today has been found by Stofix using Cubiomes! Make sure you check him out on Reddit and other socials. Every Minecraft seed featured in this post works on Java.
10. Unite the Villages!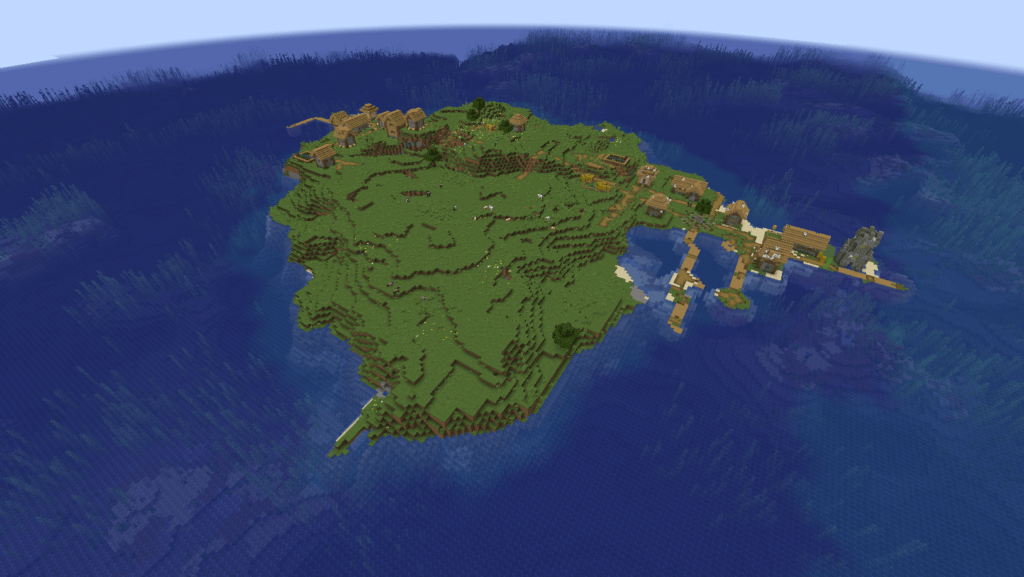 This is probably my personal favorite seed on this list. You spawn on a survival island, which contains both a regular village and an abandoned village very close to each other. You will find everything you need to survive on this island, including trees and farm animals. There is also a ravine going through the island with access to lava and natural resources very early into your game!
Seed: 204052957135
9. The Cherry Blossom Valley
A beautiful village surrounded by hills that are covered with cherry blossoms. It's hard to ask for much more, as it really gives you magical story vibes. The valley connects to a cave system which you can explore for important resources such as coal and iron. Among the cherry blossom trees, you may also find a ruined portal for a chance of fixing it and exploring the nether!
Seed: 69420017852762830
8. Villagers vs Illagers
You spawn on another beautiful island, which is home to both the desert and the jungle biomes. You can find a village and outpost very close to each other, where villagers and illagers fight for the right to call this island their own. The island is surrounded by both the ocean and the lukewarm ocean, so there is huge potential for some shipwrecks or even underwater temples.
Seed: 1002143106227712104
7. A Breathtaking View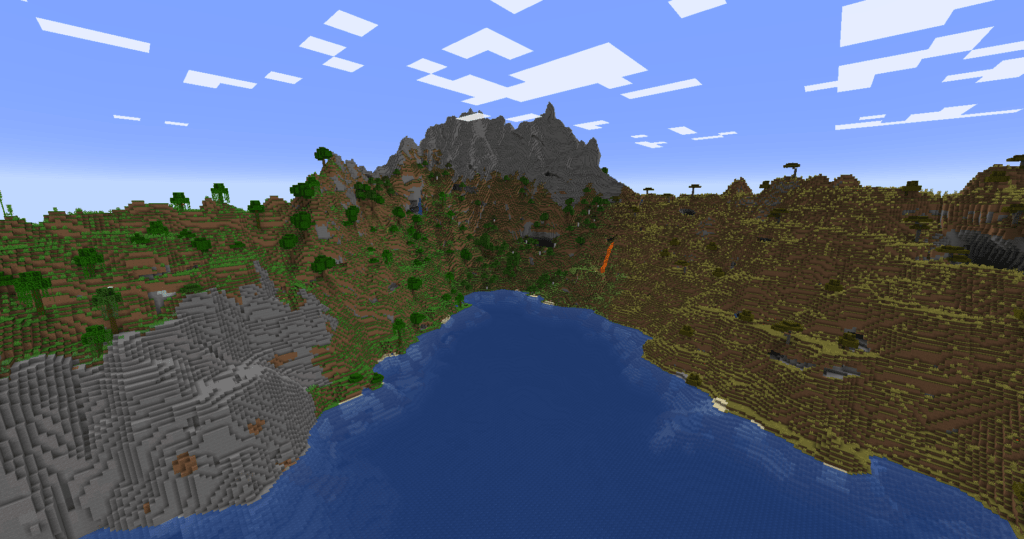 If you've ever dreamed about building your own settlement in a Norwegian fjord, then this is the seed for you. You spawn at the base of a beautiful mountain you can see in the image, which is full of resources and is surrounded by a lot of different biomes. It even connects to the ocean just as if a glacier used to flow through the valley. If any seed is perfect for a Viking village, then this is definitely the one.
Seed: 712220204224956
6. A Majestic Glacial Waterfall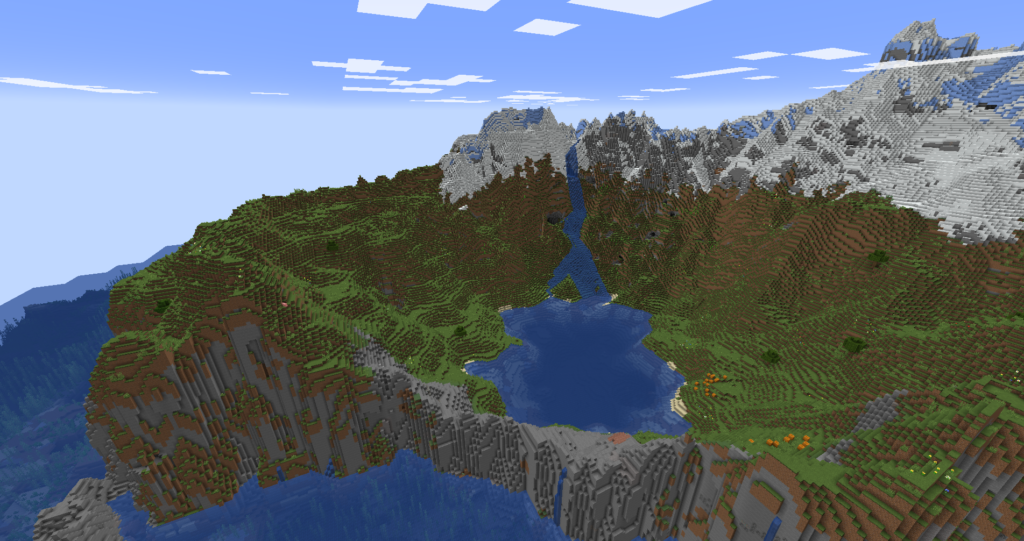 On this majestic Minecraft seed, you spawn in a cave between the icy mountains. But if you head over to the (-175,-160) coordinates, you will find a beautiful enclosed lake very close to the ocean. The waterfall flowing from the breathtaking snowy mountains is keeping the lake filled with fresh and clear water, as the valley can be a perfect place to drop your base in. There are also many openings on the mountain slopes that lead to a wide cave system, just waiting to be explored.
Seed: 712220079375970
5. A Mushroom Monument
This is probably the rarest seed you could possibly find in Minecraft. The spawn itself is nothing special, but if you head toward the (0,0) coordinates, you will find something I guarantee you have not seen yet. There is a beautiful mushroom island which is a rare find in its own right, but that is not all. Right in the middle of the island, you will find an enclosed lake with an ocean monument right in the middle of it. If that is not enough for you, it is possible to find some shipwrecks around the island.
Seed: -3420545121711234653
4. Mad Max Badlands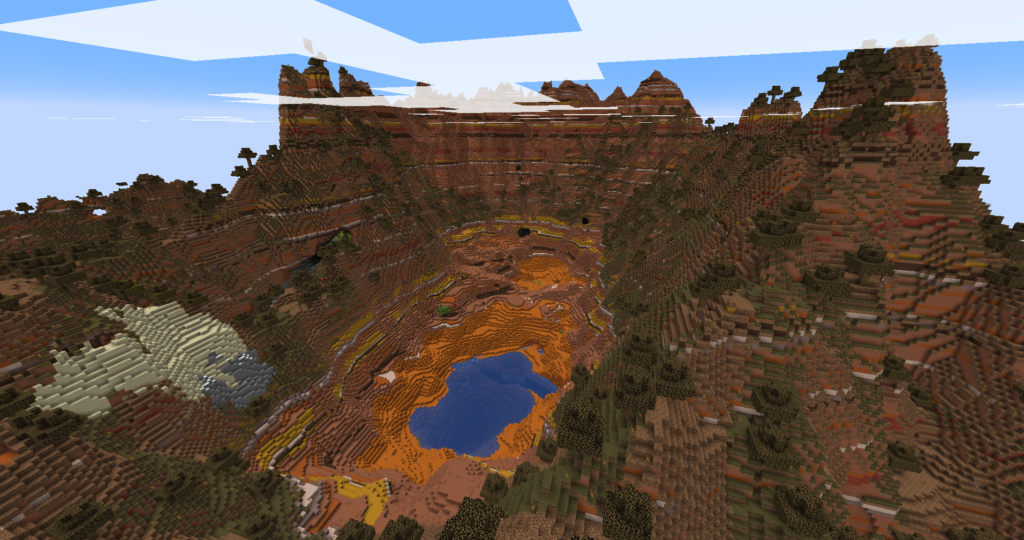 Well, you didn't expect this list to go without the Badlands biome, did you? This beautiful, enclosed valley is surrounded by hills and has a beautiful lake right in the middle of it. Not only that, but the valley is very close to a desert village so you can establish your unpaid intern system with the villagers. You may also find a lukewarm ocean nearby, so keep an eye out for shipwrecks!
Seed: 6942694519712167
3. A Woodland Mansion Start
I LOVE exploring the Woodland mansion, it is probably my favorite structure in all of Minecraft. So, it sucks that the mansion usually spawns super far away from spawn, sometimes even tens of thousands of blocks away. This is where this Minecraft seed comes in. You spawn on an island within throwing distance of the mansion and you can even find a village on a separate island just a couple of blocks away.
Seed: 6946123863878399
2. Jungle Oasis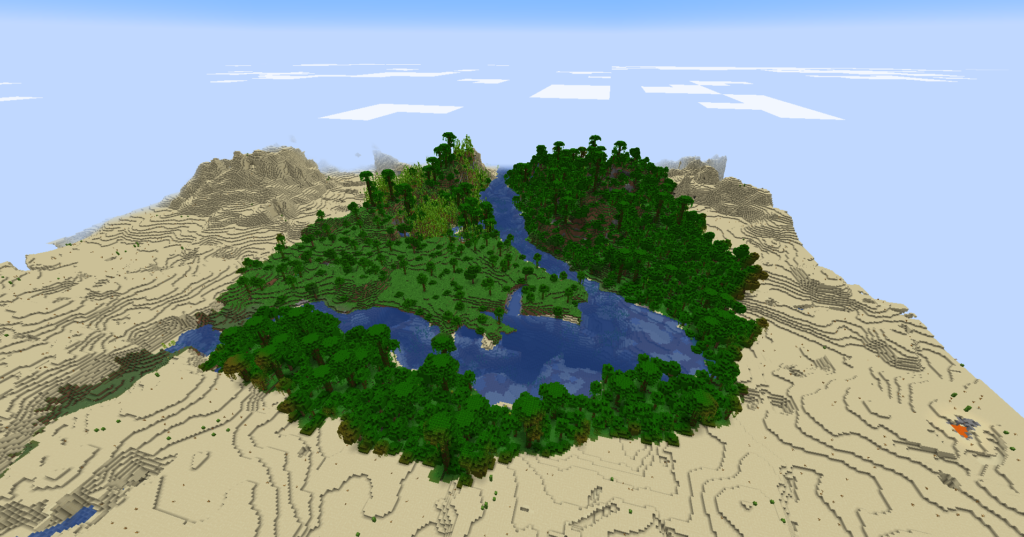 It's really not a mirage! This beautiful jungle oasis in the middle of the desert is a real sight of green freshness in the middle of nothing. A large river flows through the desert and the oasis, and you can even find a desert village nearby. This can be the perfect spot to set up your base of operations while exploring the desert, so you don't have to deal with sand all the time. Because you know, it's coarse and it gets everywhere.
Seed: 1002142499220426
1. The Twin Valleys
This is the most beautiful seed on this list. If you head out to the (50,1000) coordinates, you will find an amazing valley surrounded by hills. In the middle of the valley, you can see a lake with a beautiful sinkhole in the middle, which leads to a lava lake underground. In the immediate vicinity, you can also find a beautiful valley surrounded by icy peaks. A quick note though, if you wish to play the exact seed you see in the image you will have to play on version 1.19.2. You can watch the YouTube video about the seed right here!
Seed: 847479976687857
Finding new seeds that top everything that came before can be a challenging task. When you start a Minecraft server with your friends everything has to be just perfect, because this is a game that you spend a lot of time in. Special thanks to Stofix for allowing us to use the seeds he found for this post, they really look amazing!
I really can't believe how fast time passes. I still feel like it was yesterday when I created the first Minecraft Monday post, and now we are at part ten already! Big thanks to everyone reading this blog, I hope you have fun and that you have learned more about Minecraft with me! Do you have a topic request for the next Minecraft Monday? Which seed is your favorite? Let me know in the comments below!