Most anticipated anime episode of the year is finally here! We followed Luffy over 1070 episodes on his journey with the Straw hats. Saw his ups and downs, his victories, and defeats. We discovered many islands and secrets, but one of the biggest ones was in front of us since the beginning. Gear 5 is here!
SPOILERS AHEAD!
Foreshadowing of Sun God
Author of One Piece manga, Eiichiro Oda, is a master of foreshadow. Over the 1070 episodes we got many hints, that we could not possibly imagine turning this big.
Let's start at the beginning, the first time we get a glimpse of a sun, is a tattoo on a fishman named Arlong in episode 31. 500 Episodes later we see it much more and understand that sun tattoo is a symbol of the Sun Pirates. Led by Fisher Tiger, a group used the sun to cover up slave marks left by World Nobles.
The most notable foreshadows were placed in Skypiea, although many saw it almost like a filler. From episode 153 to 195, we discover island in the clouds, hidden from the world. We also hear the first mention and embodiment of Sun God here.
With Luffy dancing and having similar poses as the portraited Sun God, to Luffy's shadow on the sky, we get hits to what his true potential is.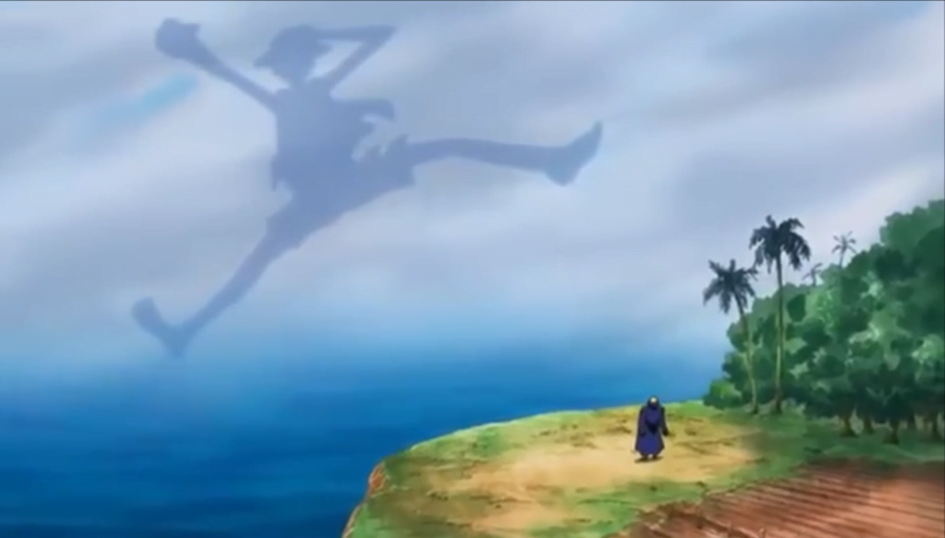 If you thought 900 episodes ago is a long foreshadow, you can think of it in year. Skypiea was published in manga in year 2002 and animated in year 2003. That was 20 years ago.
While I was learning how to walk, he was writing a masterpiece.
Even in later chapters we hear some hints, that never leave our site. Multiple times a name Dawn of the World was mentioned, with Pedro saying that Luffy will be the one leading the world into dawn in chapter 877.
Recap of Episode 1071
We ended last episode 1070 with Drums of Liberation, we heard it back in Skypiea, but now the drums are Luffy's beating heart.
I'm positive. He is here! Joyboy… Zunesha said.
With Kaido attacking the beat up warriors below, Luffy comes back from the edge of death with a smile on his face. He's body is jumping in the air and grounds are acting like his trampoline. Smoke is surrounding him, like in gears before but now completely white. His hair is flowing like under a water or in strong wind. His eyes turned pink, while his smile is wider than ever before.
Due to its immense power awakening Sanji awakes, and remaining fighters realize Luffy is still alive. Cloudy sky clears and the moon shines.
Mary Geoise
On the other side of the world in the capital of Mary Geoise, Pangaea castle, the hall of power the elders are having a meeting. World government has always tried to get ahold of the Gum-Gum fruit, but it never came in their hands. For 800 years fruit itself was evading them.
Zoan type devil fruits are said to have a will of their own. Furthermore, a Gum-Gum fruit bares another name. The name of a god. The Zoan, Human-Human Fruit, Mythical Type, Model Nika. It is said that his body had exact properties of rubber. That he fought as he fancied and made people smile as he did it. Warrior of Liberations, Nika, the Sun God. Awakening it is said to give the user even more strength and freedom itself. The most ridiculous power there is.
Kozuki Hiyori
Overflowing with hype and new informations, we jump to Kozuki which is having a talk with Kurozumi Orochi. We get a glimpse of flashbacks of Oden and his sacrifices for the land of Wano.
Slowly Kanjuro, the traitor, joins the two. Nearly defeated, Kanjuro remains only as one of his paintings, like a fire worm he approaches. On Kozuki surprise, Kanjuro leans towards him, burning both under rocks.
Gear 5
With Kozuki finally defeated, we turn back to our MC. Luffy, with the heartbeat of drums is testing his new rubber body, defining physics and logic.
Now freer than ever, he pulls Kaido like a gummy worm throw the ceiling and starts toying with him. With new power, we even get a new animation. The art style, as his powers are very Looney-Tunes alike. With eyes staying behind for a second while being punched, to stars circling the head, fight turned goofy. One could compare it to Tom and Jerry fights with amazing powerups.
With Kaido shooting his most powerful attack, Luffy simply grabs earth, makes it a trampoline, and returns Kaido's projectile back at him. Frying him like a child cartoon.
Review of Episode 1071 – Gear 5
Being a One Piece fan boy, I can't describe how much I waited for this to get animated. I didn't watch One Piece since childhood like some, and only started it last year. But did that stop me? Somehow, I watched over 1k episodes in few months, couldn't stop or watch anything else in that time. So perhaps I'm not the right person to judge it. Or am I?
With gears 2, 3 and many applications of 4th, we assumed there will be a 5th one. But not in this scale, his new powers are completely broken and overpowered. Awakened fruit, grands Luffy enhanced abilities, which can even manipulate and transform the environment itself. The freedom allows user to fight in any way they please, embodying the title Warrior of Liberation. This truly is the most ridiculous power in the world. No wonder World Government was afraid of it.
That being said, I really loved the animations, and the goofy style in which was portrayed. I grew up watching Tom & Jerry, Loney tunes and similar, seeing it after few years again in my favourite anime was a blast. It wasn't rushed and it was well planned and thought out. Something being foreshadowed for over 20 years blows my mind, and I thought Avengers had it long with 10 years screen time to finale.
Due to manga being ahead of anime I know what follows the next episode. Sit back and enjoy the show, because it is going to be even wilder imagination, you could think of!