Welcome back, it's time for another Minecraft Monday! The Trails & Tales update has finally been released and I'm once again entering my Minecraft phase for the next month.
As you probably know, Minecraft is all about exploring. A wild adventure full of pixelated possibilities where you get to showcase your imagination and challenge your skills – as something is always out there to get you. But you never know when you're going to find one of the best Minecraft seeds out there.
Exploring random Minecraft seeds is always a fun time, but sometimes I must travel for ages before finding the perfect spot to settle my base. I'm sure you know the feeling; we've all done it at least once. After bringing you the most popular mods to make your game unique, it's time to look for the best Minecraft seeds for your new world! I've handpicked the collection of the best Minecraft seeds in patch 1.20!
1. The Cherry Grove Spawn
The new cherry grove biome is probably my favorite forest biome in the game, as the beautiful pink canopies make me feel like I'm in a magical fairy tale. If you are still not on the cherry grove hype train, this Minecraft update will surely make you fall in love with them. This seed spawns you between the cherry trees and you can also find a sunflower plains biome right in the middle of it. You can find a village there very quickly (X:30, Z: 110) as well as a nether portal. Right next to the cherry grove, you can also find mountain biomes, fully equipped with snowy slopes and frozen peaks.
And the best part, underneath all of that you can find a large cave system. The system leads to a deep dark biome with an ancient city. Make sure you are fully geared for this expedition, as the Warden lives there, and he does not take kindly to strangers. This seed is truly one of the best Miencraft seeds.
Seed: 65434353559200
2. The winter wonderland seed
True, winter is over if you live north of the equator, but this special winter wonderland seed will for sure make you feel like Christmas is just around the corner again! Everywhere you look, you will be surrounded by ice and snow. Nearby you will also find a beautiful dripstone cave. But truly, this seed is the perfect opportunity for you to build Santa's village, or maybe a beautiful icy castle above the gorgeous frozen lake.
Near spawn you can also find many rare structures to help you out with the early game, but we'll leave the exploring to you 😉
Seed: 5488656216511509290
3. A Little Bit of Everything
If exploration is your jam, then this seed is definitely for you. The goal of collecting every armor trim from the latest update has never been as achievable as right here. You'll spawn in a forest with a nearby to get you going. You can find a dessert within minutes to explore the pyramids and some pillager outposts, and even get to ride the new camels for the first time!
The nearby ocean biome will help you in finding the shipwrecks, and the Elder guardian in your local monument can get you another armor trim. In the closest dark oak forest, you can also find a woodland mansion, which almost never spawns that close to your starting spawn.
Seed: 46546761360
4. Cherry Grove Valley
In this seed, you spawn in a beautiful village, which is perfect for your early game, as it has some farms, hay bales, and animals. Sadly, it's missing a blacksmith, but that would make it too easy for you. Right next to the village, you can find the new cherry grove biome, which actually has another village on the other side of it.
But the most beautiful part of the seed is definitely the breathtaking ice peak biome. In this biome, you can find a small valley completely surrounded by mountains. In said valley is another cherry grove biome. The valley has an incredible opportunity for a lost mythical village.
Seed: 844425125108133331
5. Bamboo jungle spawn
Here you will spawn in an area that is completely dominated by the jungle biome. This is a perfect opportunity to try out the new bamboo wood set. You can also find a giant mountain nearby which is just the perfect background for any of your builds. In the center of this jungle, you will also find turtles just chilling and having the time of their lives.
In this jungle, you can find many jungle temples, which house the new Wild Armor trims, so don't miss out. If you head south, you can find a desert where you can find camels. Make sure to check out your local warm ocean for some new armor trims too.
Seed: 8061
6. Desert temple Galore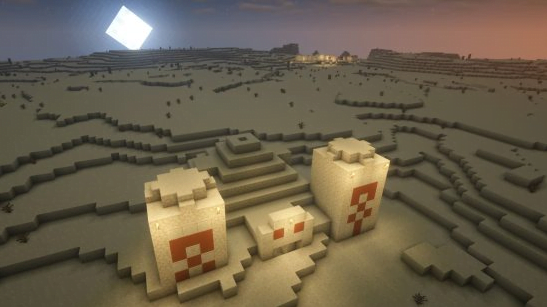 I just had to include a desert seed as well, and I think this one is a winner. You will spawn in a desert, where you will find a whopping 3 desert temples all less than a 3-minute walk from each other. You might think it's scary to spawn in a desert with no wood but don't worry. Behind the eastern temple you will find a jungle and to make things even better – there is a village next to the western temple.
The seed is perfect to try out the latest archaeology additions, as well as try out the camels with a friend!
Seed: 6379870233718797262
7. The Biggest Mushroom Island You Have Ever Seen!
Loading into the game will leave you on an ocean shore to the east of a giant mushroom island biome. I know it would be more awesome if you spawned right on the island, but Minecraft actually can't spawn you on the island itself. But that's not all – the mushroom island has a huge lake inside of it. Inside the lake, you will even find an ocean monument (X:50, Z:100).
Seed: -9223372036423807699
Tell us in the comment, what is you favorite Minecraft seed? Do you have your own list of best Minecraft seeds? Let us know!