Welcome back to Ganiming, it's time for another Minecraft Monday! Now that you know which mods to use and which map seed to play, it's time to actually play the game! Gathering resources is an essential part of every survival Minecraft server. Before you can spice up your world with amazing Minecraft builds, you need to make sure you have enough material on hand. In today's episode, I will show you some of the essential Minecraft builds every survival server needs to make your life easier.
Quick note: everything I will show you today was built by me and 2 of my friends. We were using the Minecraft Realms feature which does not allow mods, so everything is vanilla. Everything on this server was built just before the cave update, which means version 1.17. We recently started playing on this Realm again, and we are currently in the process of updating the world with all the recent additions. Even though the world is quite old, all the Minecraft builds I will show you today still work with no issues.
So, without further ado, let's get right into the most essential Minecraft builds every survival server can't go without!
1. Iron Farm
Iron is probably the single most important resource in the entire game. It unlocks a whole new level of the game when you find it. It allows you to build new armor, equipment, buckets, railroads, and more. As you progress in your world, your need for iron will also rise. Over time it can become very tedious to go strip mining for iron for a couple of hours, which nobody wants to do. This is where the Iron farm comes in handy. You simply set it up, go do your other tasks, and when you come back stacks of iron should be waiting for you. All you will need for it are some villagers with beds, a zombie, water, and some lava. It is definitely one of the most important Minecraft builds you could have.
2. Chicken farm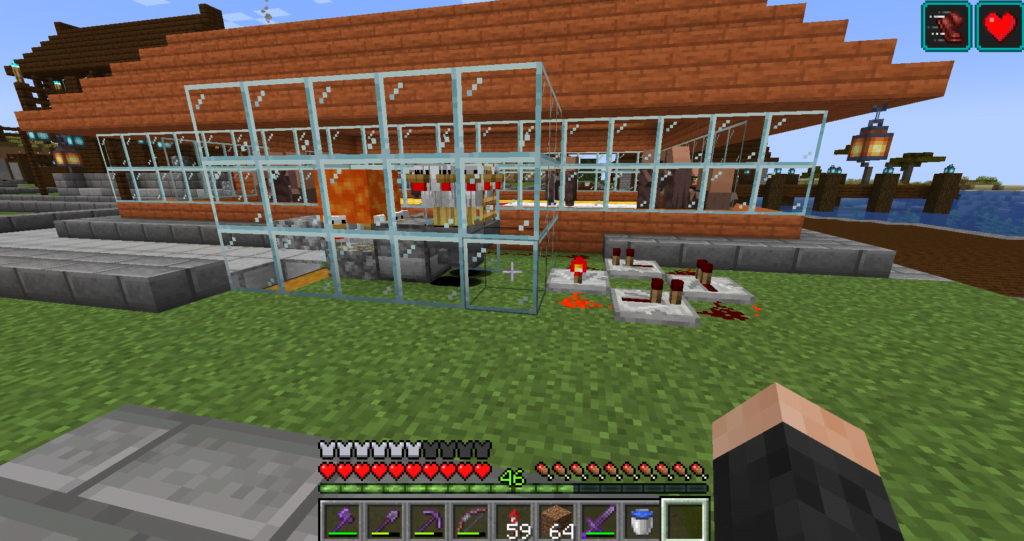 You can't live without food, even in-game. You must be prepared for the time you run out of bread you stole from your local village in the early game. Lucky for you, I got you covered with an automatic chicken cooker. You will need some Redstone for this, but it is very simple to make. This build stacks all the trapped chickens onto one block, and when it reaches the block limit it dispenses cooked chicken!
3. Villager District
Now that we have the iron and food taken care of, we need to establish some capitalism in our world. After all, we do like money. But in all seriousness, the best way of getting the enchantments you need is not by using the enchanting table. It's way easier to breed a ton of villagers, make them all get jobs, and then buy the enchantments from them. More builds are involved in the villager district, so let's go through them.
Villager Breeding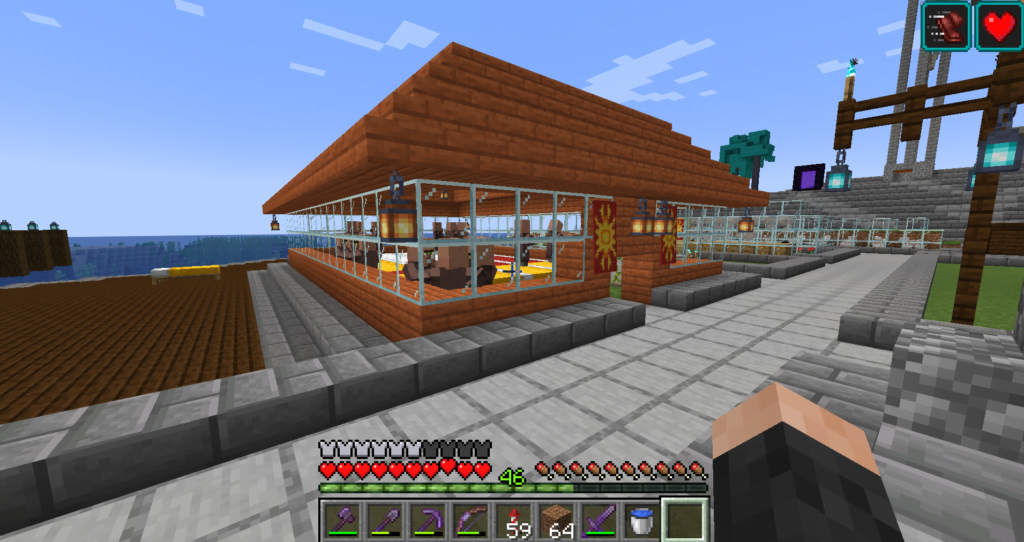 First, we need villagers. Villager breeding is super simple. You just need an enclosed space filled with beds and some food. If they have enough food, villagers will breed on their own as long as there are more beds than them in that space. Make sure you light up the place very well, you don't want a zombie ruining all your hard work.
Emerald Collecting
Before you can buy enchantments from your librarians, you need to get a ton of emeralds. It's not as hard as you might think! There are a lot of things you can trade with the villagers with not much effort. I recommend you set up some farmer villagers and some cartographers. You can easily trade everything you grow with the farmers, while cartographers accept glass for emeralds (this works best with a desert nearby). You can also trade paper with librarians if you have enough sugar cane.
Enchantments and Gear Collection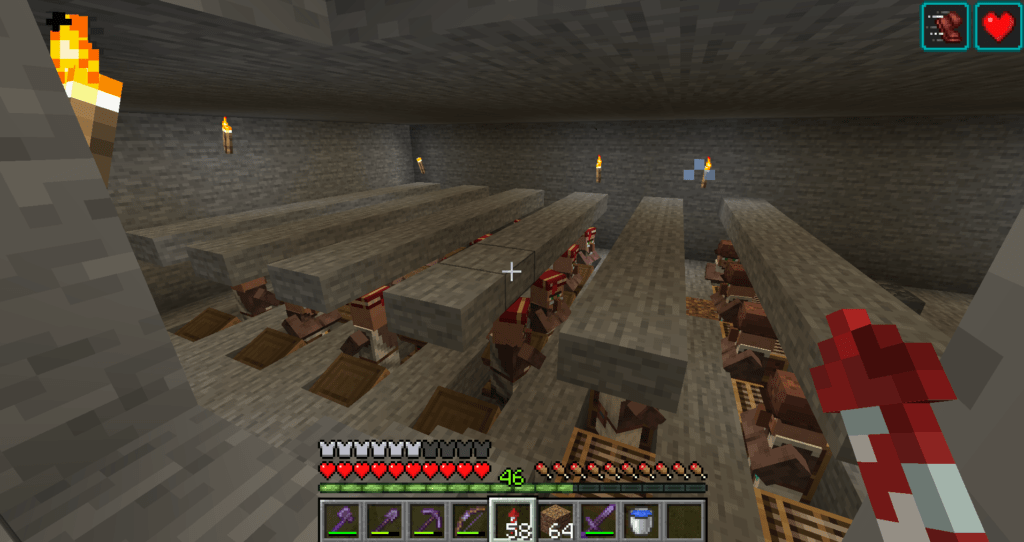 When you have enough money, you can buy anything you want. Trade your emeralds for the enchantments you need and apply them to your gear! You don't even need to mine for diamonds to get all your gear. If you level up your armorer, weaponsmith, and toolsmith, they will sell you diamond gear!
4. Watermelon/Pumpkin Farm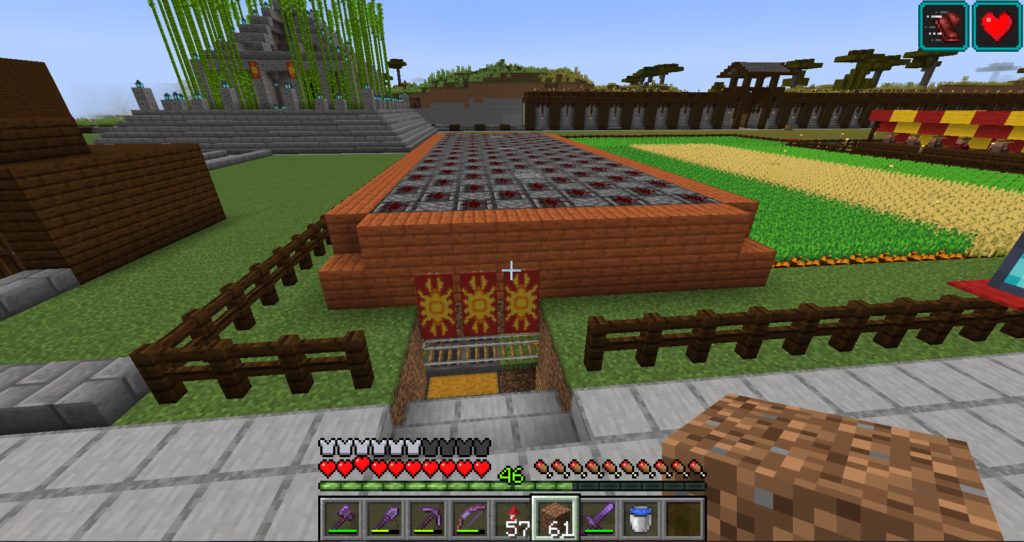 Collecting all your crops can be a nuisance to put it lightly. This awesome watermelon/pumpkin farm yields so many crops you don't need any other farms. All you need is a little bit of redstone magic and get ready for infinite pumpkins! Just make sure you put enough chests in the collecting area, as this farm fills the chests up very quickly.
5. Sugar Cane Farm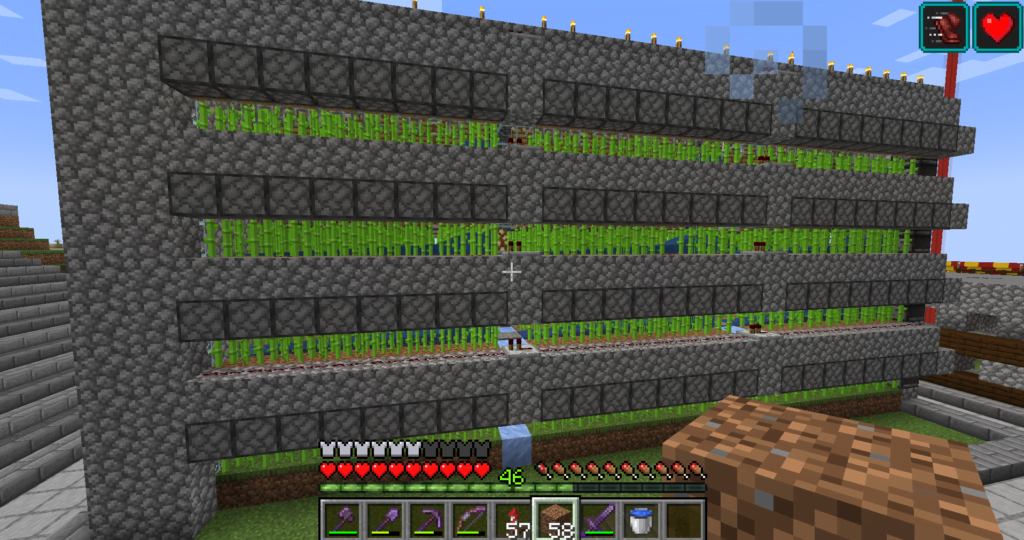 Want to level up your librarians quickly, but not sure how? There's a simple way to do so! We made a giant sugar cane farm, especially for this. You don't have to build it on as large of a scale we did, but you can never have enough resources! All you need to get started are some sugar canes, a couple of observers, and some Redstone magic! This one truly gives you tons of stacks, at the moment we have 20 double chests of sugar canes that we have no idea where to put (help).
6. Creeper Farm
Creeper farm comes in handy in the later stages of the game. When you are gliding with your elytra, you can use fireworks to fly faster. Fireworks are created with gunpowder, which you can only get from creepers. This build is quite large, and yet it doesn't give as much gunpowder as you would think, but it still beats the hell out of continuously hunting for creepers.
7. Storage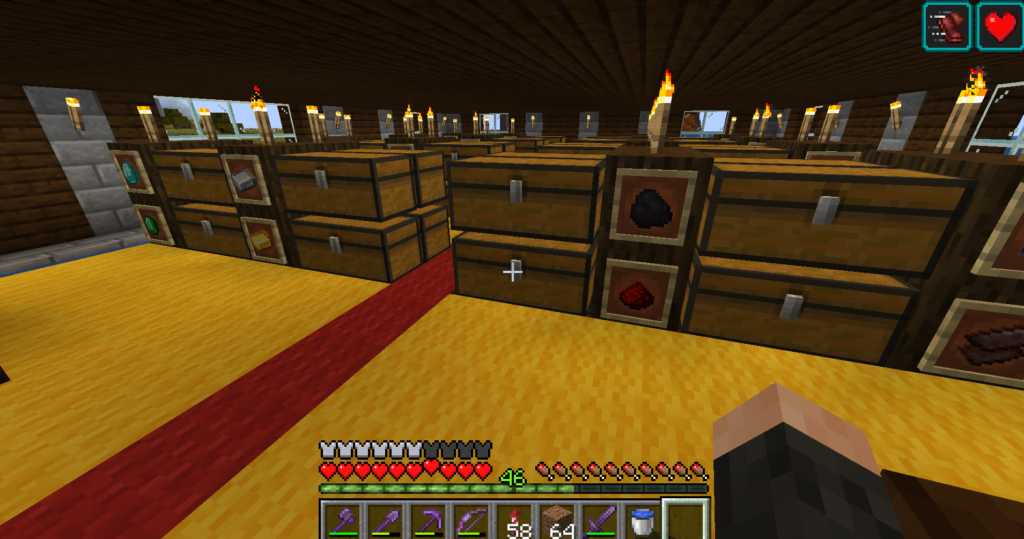 When you have all the farms set up, you need to store all your stuff somewhere! I made us a nice little storage area to put all our things in. It was meant to be a temporary storage until we build an automatic sorting storage, but we never got to building it. Everything was sorted by block/item type and put here in one place, so it is easier to find. I will definitely update you guys when I get the automatic storage set up, so keep an eye out!
8. An Automated Smelter
There is always something that needs smelting. Nobody wants to smelt every stack of blocks by hand when getting ready to build a giant project. So we decided a giant automated smelter is a top priority for our world. It uses bamboo as the smelting fuel, and it automatically loads up the furnaces with it. It also automatically loads up our furnaces with the blocks we want to smelt and collects them in chests when they are done too! It's got to be one of my favorite Minecraft builds in this world, as it makes my life so much easier.
9. Enderman Experience Farm
When you get all the enchantments and gear from your villagers, you still need to combine them, and for that you need experience. This farm is only achievable after you defeat the Ender Dragon, but it is definitely worth the trouble. With just a couple of swings of your sword, you can gain tons of experience, which you can use to repair or enchant your gear.
10. Water Elevator
Strip mines used to be a must-have build in every world. But ever since the cave update came out, you can usually find enough resources in the caves instead of good ol' strip mining. But nevertheless, strip mines remain a viable option for getting resources. Let's be honest, nobody wants to run down to the mines and back up every time. This is where the water elevator comes in. All you need to get started are some seaweeds and a block of soul sand. The elevator propels you to the top of your mines in seconds, so you never have to run up the stairs again!
I think all of these Minecraft builds are something every server should have. They make your life so much easier when you don't have to gather resources every now and then. The builds allow you to fully focus on your world building, without the worry of running out of necesarry materials. There are a lot more Minecraft builds that can improve your quality of life, such as a gold farm, a slime farm, or even a netherite collection method. I will update you when we actually get around to building them, so make sure to tune in often!
Let us know in the comments, which build is your favorite? Would you like a step-by-step tutorial on some of the Minecraft builds we presented? Head to the Contact us section and leave us a message!